Porches, Posts, & Beams
Imagine the possibilities, full logs and half logs from Meadow Valley Log Homes will complete the job.

Full Logs help create these shed porches
King post notched log for support posts
Full log header
Saddle Notched log rafters
2 x 6 T&G decking/planking
Saddle Notch                                                          King Notch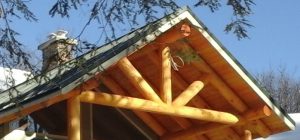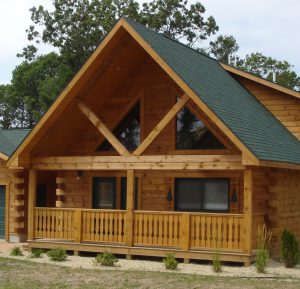 Available in 9″ Round Logs or Rough Sawn Timbers
White Pine Logs – Air Dried
30-foot maximum width at 10/12 pitch
On Site Cutting and Assembly Required
Fasteners Not Included
Logs may develop unavoidable cracks or checks as they dry
Logs and Timbers used for trusses are raw log products
2 x 6 Decking/Planking Tongue and Groove (2 x 8 also available)
Log Rafters Below a Truss Porch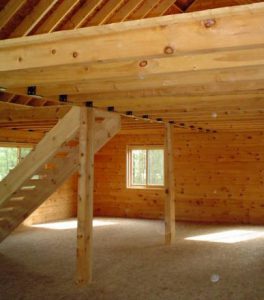 Half logs and timbers can create the look of loft floor joists
or log rafters.
2 x 6 and 2 x 8 Decking
Our 2x6 and 2 x 8 Decking is used for both floors and ceilings and has a tongue and grooved, "V" joint that is reversible
Species
Kiln-dried Spruce (Air-dried Western Red Cedar also available)
Square Foot Coverage
.41 sq. ft. per lin. ft.
Lengths Even Only
12′, 16′
2x6 Decking Spruce 
1010312602-12
2x8 Decking Spruce
1010312802-12
2x8 Decking WRC
2010312802-12