Log and Log Sided Projects
Most of the projects on the following pages can be completed in a few days or less.
Suggested Material Lists for these projects are available by emailing or calling Meadow Valley.
Customers will need to take the Suggested Material List to their local lumberyard for pricing.
Construction prints and/or assembly instructions will be mailed when you order your log project.
We recommend a good quality exterior stain to protect your projects once completed.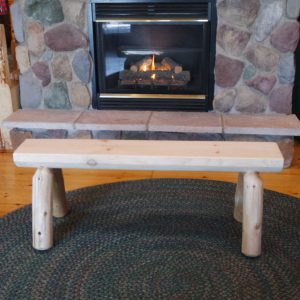 Campfire Bench
Kits are shipped knocked down and assemble in minutes.  White pine seats, with white cedar legs for durability.
Lengths Available:
4 foot (#0120000004), 6 foot (#01200000006), and 8 foot (#0120000008).
Get out the marshmallows and start the campfire! 

Bench With Back
Kits are shipped knocked down and assemble in minutes.  White pine seats, with white cedar legs (and back) for durability.
Lengths Available:
4 foot (#0110000004), 6 foot (#0110000006), and 8 foot (#0110000008).
Sit back & relax! 
Picnic Shelter
Suggested Material List and Construction Prints available for 4 different sizes:
8 x 16       12 x 16       16 x 16       16 x 20       Foundation not included.
Is your business going Smoke Free?  This outdoor pavilion provides shelter and class. 
Perfect for campgrounds, parks, golf courses, resorts, or near the water!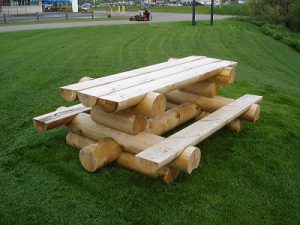 Picnic Table
All logs are pre-notched ready to assemble.  Fasteners and Assembly Guide included.
Available in 3 lengths:  6 foot (#0100000006), 8 foot (0100000008), and 10 foot (#0100000010).  All assemble in minutes.
Are you worried about your picnic tables being stolen or moved? Then this full log

picnic table is the solution you're looking for.
Do-it-Yourself Cabin Kits
3.5×9 Timbers
Butt & Pass Corners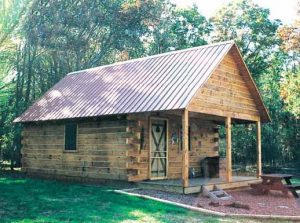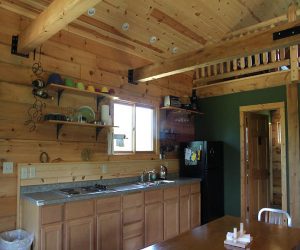 SIZES AVAILABLE:
12 x 12 Cabin Kit
12 x 20 Cabin Kit
16 x 24 Cabin Kit
~ Dimensions are Cabin Size~
With the 6′ Front Porch & Sleeping Loft/Storage above the overall cabin footprints are 6′ longer!
FEATURES
Full Log Construction
Detailed Plans
Toll-free Telephone Support
Sleeping Loft Above Porch
Vaulted Ceiling Throughout
Complete Material Package with help from lumberyard
KIT INCLUDES
Log Walls:
Precut 3.5″X9″ White Pine timbers with beveled edges and Butt & Pass corners, also includes porch posts and tie beams with step-by-step installation instructions
Hardware:
All screws, between-the-row sealant, and joint dowels needed for log construction
Sealant:
Exterior Stain and Chinking with your choice of colors. Also includes chinking gun and follow plate.
12×12 Log Cabin Kit
0200001212
12×20 Log Cabin Kit
0200001220
16×24 Log Cabin Kit
0200001624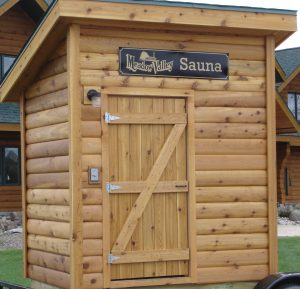 Sauna
Escape the cold with your own Log Sauna.  Built with Western Red Cedar Log Siding inside and out for beauty and durability.  Fits 4-6 people with benches on two levels.
Complete Suggested Material list includes 2 x 4 insulated walls and electric sauna heater.
The perfect weekend project that provides hours of relaxation!

\Playhouse
Complete material list and construction drawings for this weekend project. Optional pressure treated floor. Size is:
5 feet wide, 7 feet long, and 4 feet tall side walls, approx. 6 feet tall overall.
Playhouse constructed with 2 x 4 walls and 2 x 6 log siding.
A great project to do WITH the kids! Imagine the Tea Parties waiting for you!
Storage Shed
Use as a garden tool shed, bus stop shelter or decorative outhouse conversation piece.
3 feet x 3 feet x 6 feet tall.                          Build it in one day!
Call 800-657-4666  or email for a complete suggested material list and assembly drawings.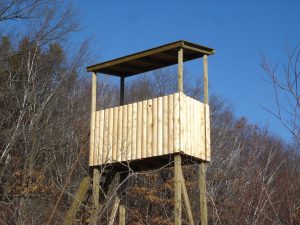 Deer Stand
Log Siding installed vertically resembles trees. A perfect way to "hide" from game, especially if stained brown and green! The roof keeps you dry, while the walls help keep you out of the wind.
Suggested Material list includes walls, pressure treated foundation, and plywood roof to serve as a ground blind. Add posts, cross bracing, and a ladder to elevate.
Size is approximately 4 feet wide by 8 feet long.
Hunt in comfort and class!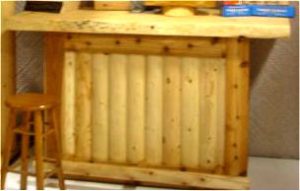 Bar
2 x 6 log siding base and our white pine countertop with a natural log contour edge makes this bar both attractive and durable.  Rough sawn cedar trim completes the corners and accents the log siding.
Available in two lengths, 6 foot long and 8 foot long.  Underneath the bar is left open for you to complete as desired; build shelves and leave open or use car siding and install cabinet doors.  Can be built in one weekend.